[Beginning of Story]
[End of Story]
[Permalink]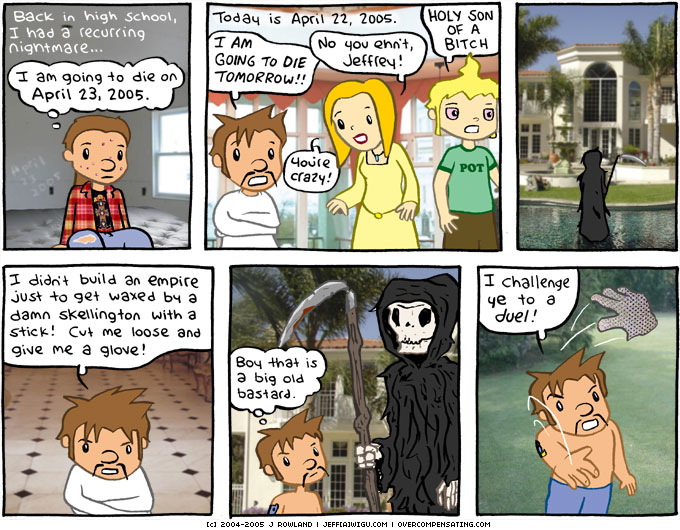 I must say I am honestly a bit nervous about this. I almost got up on the roof to take a picture of the ground for the last panel but that might have been a very bad idea.
Tomorrow I will stay away from sharp things, insects, and undercooked poultry. I will not go outside. I have people who will bring me things if I need them.
Tomorrow I may set up a "Deth Kam" so in case I do buy a farm you can get a nice screencap. Stay tuned to see if I die or not!
Bizarre Update #1: I have just purchased a brand new shovel.
Bizarre Update #2: Today while mowing, the transformer next to the fence blew a fuse. Upon closer examination, the lawn chair on which I was reading "Snow Crash" was directly below a power line (the power was out for nearly two hours).
Bizarre Update #3: While dragging a fallen branch out to the street (where two men who showed up to cut some branches away from the electrical wires parked their big wood chipper truck) I cut my right leg above the spider bite scar something awful.
Bizarre Update #4: My roommate Matt asked me a few days ago if I wanted to go to a to a big rugby party with him in Louisiana. I declined, stating the aformentioned reasons. Moments ago in Dallas, a man pulled a gun on Matt at a convenience store. He is fine, but we are all getting pretty freaked out.